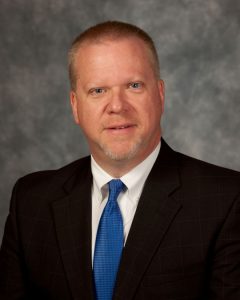 Shawn Anderson is Chief Operating Officer at Cary Medical Center, a position he assumed in June of 2004. Prior to his appointment at Cary Medical Center, Anderson spent more than ten years in positions of increasing leadership in education and health care administration. Within the healthcare arena, he has served in the areas of human resources, business development, physician practice management, clinical services administration, and medical staff recruitment and retention.
Anderson holds senior administrative oversight responsibilities for numerous Cary departments including: Anesthesiology Services, Pharmacy Services, Cardio-Pulmonary Services, Facilities and Environment of Care, and numerous Hospitality and Support Services Departments. Additionally, he oversees Corporate and Regulatory Compliance and Risk Management for the Medical Center.
Anderson currently serves as a member of the Maine Advisory Committee for Medical Mutual Insurance Company based in Portland, Maine. He also is Chairman of the Board of Directors for The County Federal Credit Union, and sits on the Board of Directors for Aroostook Home Health Services and Valley Home Health Services. He is a member of The American College of Healthcare Executives. As a leader in Maine healthcare, Anderson was selected to participate in the prestigious inaugural class of Maine's new statewide Health Leadership Development Program sponsored by the Daniel Hanley Center for Health Leadership and the Institute for Civic Leadership.
Anderson is a former member of the Maine State Trauma Advisory Committee, the Board of Directors for The United Way of Aroostook, and is a past President and member of the Board of Directors of the Caribou Rotary Club.
In 2005, Anderson received the Pinnacle award for Inspiring Administrator given by the HealthCare Service Excellence Association. Under his Administrative leadership, several Cary departments have received outstanding ratings in the areas of quality and patient satisfaction.
He received his Bachelor's degree in Business Administration from the University of Maine at Presque Isle in 1986 and his Master of Science Degree in Business Administration from Husson College in 1995.