ACS CAN Lights of Hope Display
Friday, September 23 from 2-10 PM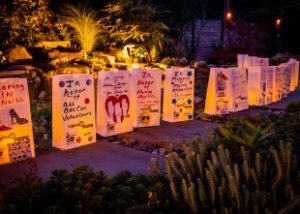 On Friday, September 23, Cary Medical Center will once again be hosting a drive-through Lights of Hope luminary display in honor of the American Cancer Society Cancer Action Network's Lights of Hope Across America event. Over the next few weeks, leading up to the event, we will be decorating the luminary bags with names and messages for those affected by cancer. You can sponsor luminaries that will be displayed at Cary for $10 each on the event fundraising page at http://action.fightcancer.org/goto/AroostookCountyME. To dedicate a Lights of Hope, please send and email to Cindy Blanchette at cblanchette@carymed.org with the following information:
"In Memory" or "In Honor/Tribute"
Name
Message (optional)
The luminaries will be set up along the driveway into Cary and illuminated after dusk. Please feel free to drive through or pull over to the side and walk through any time during the event to read the bags given in honor/memory of those that continue the fight every day, and for those that have lost their battle. They are forever in our hearts.
Thank you for all that you do and for helping us make our display a beautiful tribute to the people affected by cancer within our communities!
If you have questions, please call Cindy at 207-498-1634.