Cary Medical Center Receives Two 2022 Women's Choice Awards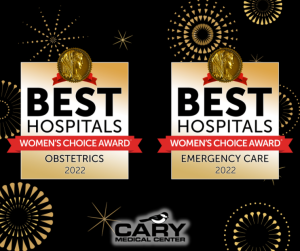 Cary Medical Center has been named as one of America's Best Hospitals for both Emergency Care and Obstetrics by the Women's Choice Award®, America's trusted referral source for the best in healthcare.  The award signifies that Cary Medical Center is in the top 6% of 4,728 U.S. hospitals offering emergency care services and in the top 3% of 4,728 U.S. hospitals offering obstetrics.
Kris Doody, RN and CEO for Cary Medical Center said that these awards come at a very challenging time for the hospital.
"The past two years have been very difficult coping with the COVID -19 Pandemic", said Doody who is also the CEO for Pines Health Services a Federally Qualified Health Center based in Caribou.  "We are so proud of the outstanding performance of our staff throughout the hospital and at Pines.  Being recognized by the Women's Choice Award for both Obstetric Care and our Emergency Department speaks to the high quality, patient safety and patient satisfaction we strive for everyday".
The methodology for America's Best Hospitals for both Emergency Care and Obstetrics is unique in that it combines national accreditations, Hospital Consumer Assessment of Healthcare Providers and Systems (HCAHPS) survey results and hospital outcome scores with primary research about women's healthcare preferences.
The Emergency Care award recognizes excellence in emergency care based on several processes of care measures focused on time patients spent in the emergency department, including:
Total Time Spent in the Emergency Department
Percent of Emergency Patients Who Left Without Being Seen
Criteria for selecting Cary Medical Center as one of America's Best also included the percentage of patients who came to the emergency department with stroke symptoms who received brain scan results within 45 minutes of arrival.
The award is especially significant given that long waits and high crowding can negatively impact patient outcomes, including patients leaving without receiving medical treatment, longer overall length of hospital stay and an increase in mortality rates.
"Emergency departments can be very stressful environments, particularly for the elderly or a mother with a sick or injured child," said Delia Passi, founder and CEO of the Women's Choice Award.  "Women make or influence 94% of all healthcare decisions for themselves and others.  They want to be confident that they know which emergency departments in their communities will take care of their loved ones quickly and with the best possible care.  Knowing the Women's Choice Award has already placed their seal of excellence on a hospital is immediate validation that they have made the right decision, easing their concern during a very stressful time."
The Obstetrics award is the only award recognizing excellence in obstetric services based on robust criteria that consider patient satisfaction and clinical excellence including:
The percentage of patients reporting through the HCAHPS survey that they would definitely recommend the hospital
Patient safety ranking based on 11 Centers for Medicare and Medicaid Services' measures of infection and complication rates
Low rates of early elective deliveries (between 0-1%)
"Our award gives a woman the confidence that her choice of a hospital for her delivery will be the best in terms of quality care and patient safety for her and her baby.  As the trend of women waiting longer to start their families continues, having the Women's Choice Award seal is especially important for older moms who face increased risk and need a top hospital to provide her care" says Passi.
This is the second year Cary Medical Center has received the Women's Choice Award for Emergency Care, it is one of 477 award recipients in the United States to gain this level of recognition. This is the seventh time in the last nine years that the hospital has earned the Obstetrics award, Cary Medical Center is one of 426 award recipients representing the hospitals that have met the highest standards for obstetrics across the U.S.
ABOUT THE WOMEN'S CHOICE AWARD®
The Women's Choice Award for Best Hospitals™ is a trusted referral source and coveted credential that identifies the nation's best hospitals based on robust criteria that includes relevant clinical performance, patient satisfaction and appropriate accreditations. The Best Hospitals demonstrate exceptional ratings, providing the highest level of care and commitment to their patients' health and well-being.  The Women's Choice Award is the only designation that takes into consideration the preferences of women when selecting a hospital. Visit http://www.womenschoiceaward.com/ to learn more.