Katahdin Trust Corporate Sponsor for 38th Annual Cary Classic Benefit Golf Tournament
Katahdin Trust Company is again Corporate Tournament Sponsor for the 38th Annual Cary Classic Benefit Golf Tournament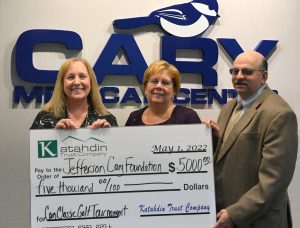 For the 8th consecutive year, Katahdin Trust Company is once again the Major Corporate Sponsor for the Annual Cary Classic Benefit Golf Tournament. Organized by the Jefferson Cary Foundation, (JCF), this year's 38th Annual Cary Classic will be held on Saturday, July 9th at the Caribou Country Club, with tournament proceeds to purchase new equipment for the new Maternal/Child Floor at Cary Medical Center.
In addition to a new car Hole-In-One Prize, the tournament also features $6,000 in prizes for division winners, and other prizes for the longest drive and closest to the pin.
"We are pleased to once again be the major sponsor for the Cary Classic Benefit Golf Tournament," shared Craig Staples, Katahdin Trust Vice President, Commercial Services Officer. "It is an honor to support organizations like the Jefferson Cary Foundation that work hard to ensure the residents of Aroostook County have access to the latest advances in healthcare. We appreciate all that they do."
"Thanks to the continued support from Katahdin Trust, and all of our generous major, hole and prizes sponsors, the Cary Classic continues to be one of the premiere golf tournaments in Maine," said Tamra Kilcollins, Executive Director of the Jefferson Cary Foundation. "We are so grateful to Katahdin Trust and all of our sponsors for enabling the Foundation to continue with this great golf event. About 100 golfers played in our tournament last year and we're hoping to host that many again enjoying tournament day this year," Kilcollins added.
JCF President, Pam Scheppele said that the tournament offers golfers a great value beyond the chance to win prizes. "For their registration fee the golfer gets a free practice round on Friday, eighteen holes of golf on Saturday, a beautiful golf shirt, post play reception, and a chance to play on one of the County's pristine 9-hole golf courses. This is a very special tournament that has built a tradition over more than three decades."
"In addition to Katahdin Trust as the major corporate sponsor, the event also features major and hole sponsors, and a number of prize or cash sponsors. Our many sponsors make the tournament a success; we have sponsors that have been with us for more than 30 years," Scheppele added.
Golfers interested in playing in the tournament should register by Thursday, July 7th and are asked to mail their entry fee and handicap to the Caribou Country Club, PO Box 633, Caribou, ME 04736, or call the club at 493-3933. Tee-off times are 7:30 a.m. and 1:00 p.m. Golfers can visit www.carymedicalcenter.org or www.caribougolf.com for more information, or contact the Jefferson Cary Foundation office at 493-4849.
*Rain date is July 11th
Presenting the bank's generous $5,000 sponsorship check from Katahdin Trust to JCF Executive Director Tamra Kilcollins, (left), are (right), Peggy Smith, Vice President, Branch Manager, and Craig Staples, Vice President, Commercial Services Officer with Katahdin Trust.