October 10: Jefferson Cary Foundation
The Jefferson Cary Foundation is a nonprofit 501(c)3 organization founded in 1993. The foundation's namesake is Dr. Jefferson B. Cary whose charitable bequest founded the original Cary Memorial Hospital that is known today as Cary Medical Center. Jefferson Cary Foundation's mission is to encourage philanthropic giving and, through careful financial management and analysis, provide funding for health care related projects and equipment that benefit all those served by the hospital.
Our charitable foundation is committed to reducing human suffering through health care excellence and dedicated to the physical and mental well-being of all those who are touched by its generosity.
Learn more about the Jefferson Cary Foundation by viewing our brochure. You can click the brochure image below to link to a printer-friendly PDF version that is easier to read.
Over the years, the Foundation has funded many special projects at the hospital, including the Center for Women and Children's Health, Women's Imaging Center, the Oncology and Specialty Services building, advanced medical equipment, scholarships to promote nursing education, and numerous programs for patients and families. Additionally, the Foundation has established an Endowment that now surpasses $500,000. We welcome gifts of all sizes to our fund and you can make your donation securely through our website by visiting https://www.carymedicalcenter.org/about-cary/jefferson-cary-foundation/giving/.
If you would prefer to make your gift by check please make your check payable to the Jefferson Cary Foundation and mail your check to:
Jefferson Cary Foundation,
PO Box 89
Caribou, Maine 04736.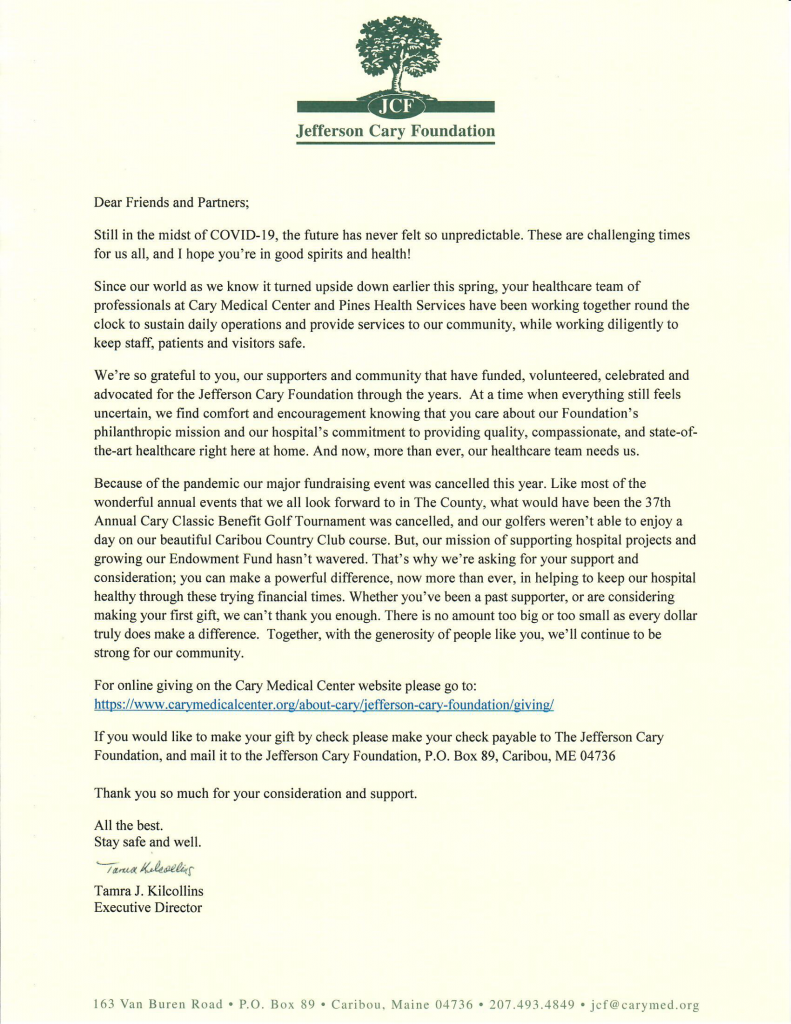 Reuben and Annette Cote Family Memorial Scholarship Awarded
Because of a local family's generosity, caring and desire to give back, many nurses at Cary Medical Center have been supported with financial assistance to help further their nursing education over the past thirty years.  Members of the Reuben and Annette Cote family originally established the Family Memorial Scholarship program in memory of Annette because of the wonderful care that she received during her hospitalization at Cary in the mid-1980's.  The scholarship has been awarded annually since the late 1980's to a Cary Medical Center employee furthering his/her education in the nursing field, with the funds administered by the Jefferson Cary Foundation, (JCF). As other members of the immediate family have passed, including siblings Freda "Sis" Cote Classy in 1999, Paul "Bert" Cote in 2005 and Alfred "Hap" Cote in 2008, the family has added to the scholarship and made it a Family Memorial.
"Even though the extended Cote family now resides in various locations throughout the United States, they generously continue to support the scholarship fund annually here at Cary," explained Tamra Kilcollins, JCF Executive Director. "Their commitment to the scholarship has continued each year to assist a recipient with continuing his/her nursing education. These wonderful gifts help make a difference for our nurses and patients right here at home, and we so appreciate their support."
"It's always a hard decision for us because all of the applicants are so deserving," noted Darylen Cote. "Our family feels the scholarship is a wonderful way to give back, and they are all so generous with supporting and keeping our scholarship funded. We were so pleased that we could award two scholarships this year."
Receiving the 2020 Scholarship Awards of $750 each are Vicky Cyr, RN of Van Buren, and Nicholas Jackson, CNA of Caribou.  Vicky is an Emergency Department Nurse, a Nursing Supervisor and also works in Case Management at Cary. She is currently enrolled in the Family Nurse Practitioner Program through Walden University. Nicholas is a CNA/Unit Secretary on the hospital's Acute Care Unit and is enrolled in the Nursing Program at Northern Maine Community College.