Prime for Life for Adults Class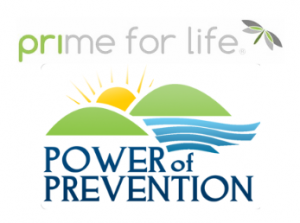 It is a reality of our culture that virtually everyone will have alcohol or other drug choices to make on an almost daily basis. Is it even possible for a person to conduct their life so as to never encounter alcohol, prescription drugs, over the counter drugs or even illicit drugs? If you think not, a logical question to ask is, "Am I prepared to make these choices?"
Join us for a 3-hour class in September with Certified Prevention Specialist Kim Parent of Power of Prevention. Kim will provide valuable information to help start conversations around substance use. The class is based off the Prime for Life curriculum and modified specifically for adults. This curriculum is specifically designed to provide tools to use when faced with alcohol other drug choices and to help others make choices in their best interest.
We are offering three online classes – Wednesday, September 22 from 6-9PM, Monday, September 27 from 1-4PM and Wednesday, September 29 from 9am to 12noon.
Participants who successfully complete this workshop will:
• Learn to recognize the difference between Health Risk and Impairment Risk associated with alcohol and other drug choices and be presented with models proposing how these two types of risks develop.
• Engaged in the consideration of who is at risk for alcohol and other drug problems in general and how to assess their own personal risk.
• Leave with research based, easy to remember, low-risk alcohol and other drug guidelines.
Please submit the registration form below to indicate your date/time choice. Class registrants will receive the manual and ZOOM link for the workshop in advance of the class so please register by Monday, September 20, 2021.
Prime for Life for Adults Registration