Scholarships Awarded Recently at Cary
Reuben and Annette Cote Family Memorial Scholarship Awarded to Two Cary Medical Center Nurses
The Jefferson Cary Foundation, (JCF), is responsible for the administration of scholarships awarded to individuals involved in the study of nursing at Cary Medical Center. The Reuben and Annette Cote Family Memorial Scholarship was established by their family many years ago to support ongoing nursing education at the hospital. The family was so impressed by the care that Annette received during her hospitalization at Cary in the mid-1980's, that they established a scholarship in memory of family members, Reuben Joseph Cote, Annette Cyr Cote, Bertram Paul "Bert" Cote, Freda Cote "Sis" Classy and Alfred Philip "Hap" Cote. The scholarship is awarded annually to a Cary Medical Center nurse(s) furthering their education in the nursing field.
In 2015, two Cary Nurses, Lisa Lajoie, RN and Dayna Michaud, RN, each received scholarship awards.
Lisa currently works on the Intensive Care Unit at Cary and is enrolled in the Community & Family Nurse Practitioner Program at Husson University. Dayna works on Cary's Acute Care Unit, and is currently in the Bachelor of Science in Nursing program at the University of Maine at Fort Kent.
Presenting Lisa, (far left) and Dayna, (far right), with their scholarship awards are Shanin Cote, (Alfred Cote's daughter), and Mary Harrigan, JCF Executive Director.
---
Emily Susi of Caribou was recently awarded a $500 Scholarship from the Cary Medical Center Auxiliary. The scholarship is awarded annually by the Auxiliary to a student entering a medical-related field. Emily is a 2015 Caribou High School graduate, and a freshman nursing student at the University of Maine at Fort Kent. She is the daughter of Scott and Tammy Susi of Caribou.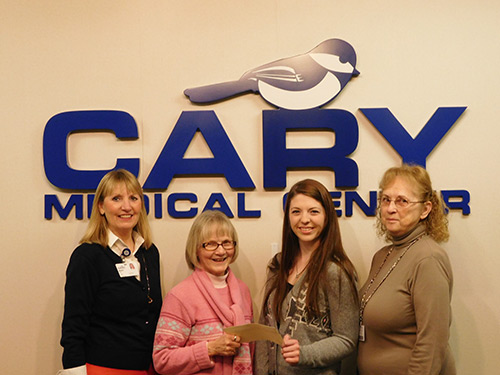 Presenting Emily with the scholarship are Cary Auxiliary Scholarship Committee Members, (left to right), Mary Harrigan, April Caron and Andrea Gallagher.