WAY TO WELLNESS #34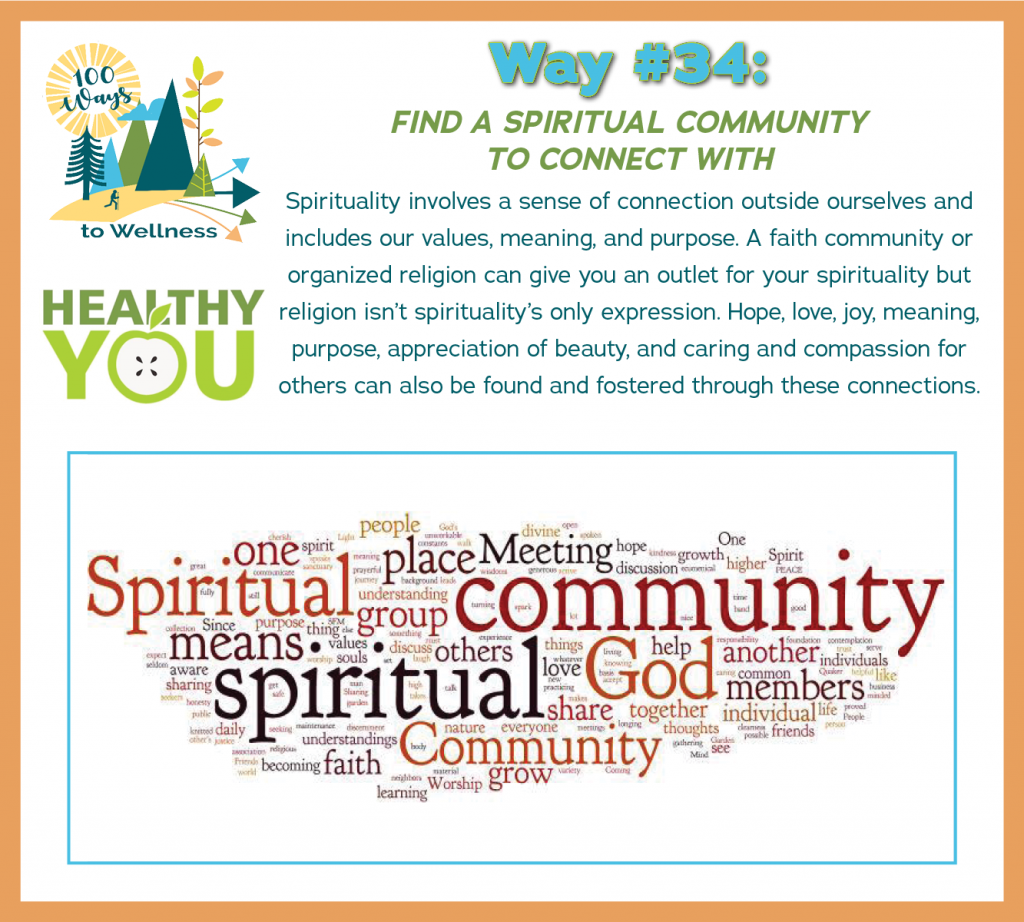 One of the most basic human needs is the need for community, belonging, and the security and protection—both physical and emotional—offered by a group of others to which we're connected.
Here are just a few of the benefits to having a spiritual community to rely on:
Support During Hard Times
A simple, obvious, yet incredibly powerful advantage to having others with which to share experiences is that, when things go awry in your life, you'll have others to lean on. So much depression, addiction, and additional pain is born of going through trials alone. Sometimes, a person does need to be alone, but it's important that it be a choice, not an inescapable reality.
Even just knowing that you have good, loving, trustworthy people to turn to in a time of crisis can be a tremendous help. The knowledge that you have someone to count on, and somewhere to turn to, can literally save lives.
When we feel our world is falling apart, the love of others can be what reminds us that there is good, and that we can heal. We can gain wisdom, guidance, a listening ear, or even just a friend to share a laugh with.
Company During Good Times
Just as we need others to lean on when we're hurting, we long to share our joys and achievements with others, too. A big accomplishment or a fun experience are amplified by having people we care for by our side. Our fond memories are made sweeter by those we remember being with us, not necessarily the events themselves.
A spiritual community offers a group of people with shared beliefs and open hearts. Within this group, lifelong friends can be made, and plenty of fun memories, too!
Betterment of the Community
A spiritual community is a group seeking opportunities to enrich the world around them. This means plenty of giving, charity, and fun projects. The feeling of knowing you've contributed positively to the lives of others is unmatched, and has been proven to enrich your own life.
Developing Your Spirituality
Another wonderful benefit to being part of a spiritual community is your own spiritual growth and expansion. Beginners benefit from the wisdom of those more experienced, and those who've been involved for a time a helped by the act of leading others. New insights and resources are shared, life experiences become learning opportunities, and spiritual growth is enhanced by the synergy of many people working together toward a common goal.
Your spiritual well-being isn't what you own, your job, or even your physical health. It's about what inspires you, what gives you hope, and what you feel strongly about. Your spirit is the seat of your deepest values and character. Whether or not you practice a religion, you can recognize that a part of you exists beyond the analytical thinking of your intellect; it's the part of you that feels, makes value judgments, and ponders your connection to others, to your moral values, and to the world. Spiritual wellness is a continuing journey of seeking out answers and connections and seeing things in new ways.