A Healthy You Fitness Challenge
Welcome to the 2020 100 Miles in 100 Days Healthy You Fitness Challenge.  The COVID-19 'shelter in place' policy has a lot of us feeling like we just have to get out and do something.  This challenge allows us to participate in physical activity, walking, while keeping social distance and if appropriate, wearing a mask.  Once again we are working with Townsquare Media and other local sponsors to improve the health of the communities we serve.  Cary's Vision is 'We aspire to create a healthier community'.  Walking is truly, 'Miracle Medicine'.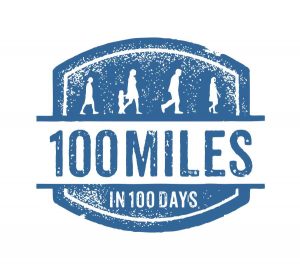 Walking can reduce your risk for chronic illnesses such as diabetes, cancer, heart disease and more.  A walk every day can reduce depression, strengthen bones, balance and even reduce your risk for Alzheimer's disease.  We hope that by participating in the 100 Miles in 100 Days Challenge you may incorporate a daily walk into your lifestyle.  Many of us have been, 'sheltered in place' for weeks and now, with summer here, 'let's get walking'.
The 100 miles in 100 days challenge begins, Monday, June 15th and ends Thursday, September 24th. To be eligible for other great prizes you must log your miles at the end of each month during the challenge.  You can log your miles online here or create your own tool to track your miles and email your total miles every month to jholmquist@carymed.org.  You can download and print a tracking sheet and document you miles every time you walk.  You can also call in your total miles once a month to 498-1112, just leave a message with your mileage for the month, along with your name or you can mail your monthly total miles to:  Judy Holmquist, 163 Van Buren Road, Caribou, Maine  04736. To qualify for the Grand Prize, a $250 Gift Card, you must meet the 100 miles in 100 days challenge.  Remember you must 'Officially' log your miles at least once per month.  We will also be sending out weekly health tips and motivating messages to keep you moving and we will be having weekly drawings including $25 dollar gift certificates from Sleepers of Caribou.  Only one win per entry and you must register to be entered into the drawings.
The real prize is the benefit you will get from walking.  We may still be practicing social distancing so no more than two walkers at a time.  We invite you to email us selfies of your walk, if you walk with your spouse, a friend, a pet or solo, we would like to hear from you about why walking is special to you.  If you find some great walking trails let us know so that we can share. If you have never been involved in a walking program tell us about why you took the challenge.  We will post your comments and photos online and on our Facebook page (with your permission of course).  Good Luck and start walking for the Health of it.
Rules:  You must be 18 years of age or older to register
Note:  To 'officially' log your miles you must submit the total miles walked at the end of each month, June, July, August, September (through September 24).  You can send by email: jholmquist@carymed.org or online here.  You may also call in your monthly total miles walked at 207-498-1112 or mail your total to:  Judy Holmquist, Cary Medical Center, 163 Van Buren Road, Caribou, Maine  04736.  Thanks to our sponsors:  TownSquare Media, Hebert's Rexall Pharmacy in Van Buren, and Sleepers in Caribou.