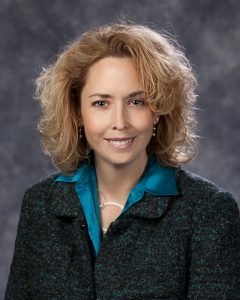 Dr. Regen Gallagher, DO, MBA, CPE serves as Chief Medical Officer at Cary Medical Center. As an OB/GYN by training, Dr. Gallagher originally joined Pines Health Services in 2006 and practiced Obstetrics and Gynecology until 2010. Following active practice, she joined Executive Health Resources as a Physician Advisor where she performed concurrent case review to ensure Medicare compliance for hospitals throughout the country. In 2012, she assumed the role of Chief Medical Officer at Cary, and in that capacity also serves as Chief Compliance Officer, Physician Advisor, Patient Safety Officer, and Human Protections Administrator.
Dr. Gallagher received her undergraduate and medical degrees from the University of New England in Biddeford, Maine. She interned at Mercy Suburban Hospital in Norristown Pennsylvania, and completed a residency in Obstetrics and Gynecology at Midwestern University and St James Hospitals and Health Centers in Olympia Fields, Illinois. She earned an MBA in 2010 from the University of Massachusetts Isenberg School of Management. She is board certified in Obstetrics and Gynecology and as a Physician Executive by the Certifying Commission of Medical Management. She holds an academic appointment at the Tufts University School of Medicine as a Clinical Assistant Professor of Obstetrics and Gynecology. She is currently pursuing a law degree at Mitchell Hamline School of Law in St. Paul, Minnesota.
Over the years, Dr. Gallagher has served in a variety of leadership roles at Cary Medical Center including Chief of Staff, Vice Chief of Staff, and as Physician Director of Maternal Child Services at the institution. She provides leadership and expertise to a number of departments and committees at the hospital including the Antimicrobial Stewardship Committee, the Medical Executive/Credentials Committee, Patient Safety Committee, Medical Review Committee, Quality Management Committee, and the Maternal Child Committee.
Locally, Dr. Gallagher serves on the Professional Advisory Committee of Valley Home Health Services. At the state level, she currently serves as Trustee at the University of New England, and on the Institutional Review Board at the University of Southern Maine. She has also served on the board of directors for the Aroostook Council for Healthy Families, Cary Medical Center, and the Maine Osteopathic Association.
She was inducted into the Psi Sigma Alpha Honor Society in 1996, and named a Fellow of the American College of Osteopathic Obstetricians and Gynecologists in 2007. Dr. Gallagher completed the Health Leadership Development Program at the Daniel Hanley Center and the Institute for Civic Leadership in 2010 and was named a McAfee Fellow at the Daniel Hanley Center Physician Executive Leadership Institute in 2012.