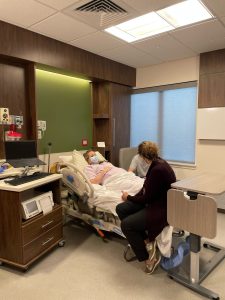 Cary Medical Center's newly renovated Maternal and Child Health Unit is intimate enough to create the birth experience that patients imagine in a state-of-the-art environment. We focus on customized and compassionate care while discussing their birthing options and preferences, including pharmacologic and non-pharmacologic pain management, delayed cord clamping, delayed bathing, immediate skin-to-skin contact and newborn feeding choices. The staff strive to make every experience of childbirth unique and personal. The OB staff encourages rooming-in so the baby can be with the new parents throughout their stay, though we do have a nursery available for the baby upon request. Our staff promotes early skin-to-skin contact between mom and baby for stabilizing the newborn's heart rate, breathing, temperature and blood sugar. The birthing experience also features delayed cord clamping and delayed bathing of the newborn which the American Academy of Pediatrics promotes for healthier skin.
The unit has seven private rooms, including two expanded labor and delivery rooms with one labor tub. Five post-partum rooms, two of which have queen size adjustable beds. The unit also features an exam room, lactation room, regular nursery and isolation nursery and other facilities. The postpartum suites can be used for home-like birth, in a more comforting environment.
Our maternal and child health team consists of physicians, certified nurse midwives, registered nurses, licensed professional nurses, certified childbirth educators, certified lactation counselors, and certified car seat technicians. This team specializes in the care of pregnant women and newborns. With private home-like birthing suites, families who choose Cary Medical Center for the delivery of their baby have the opportunity to experience an intimate, comfortable birthing environment while having the reassurance of highly-skilled medical professionals and hospital services readily available. The entire unit is locked with badge-access to ensure the safety of our newborns and their families.
Our maternal/child health team has an outstanding reputation for providing compassionate care that meets the physical, emotional, mental, and spiritual needs of our patients.  In fact, our team was awarded the Women's Choice Award for being one of the Best Hospitals for Patient Experience in Obstetrics from Women Certified.
Hours of Service
Cary Medical Center's Maternal and Child Health Unit has 24-hour nursing and physician coverage. Additionally, several medical specialists are on-call 24-hours every day in case the patient requires other specialty services.
At Cary Medical Center, we understand that a baby's birth is a miracle that friends and family want to celebrate with new parents. For this reason, we offer generous visiting hours from 10:00 AM through 8:00 PM every day, as well as extended hours and overnight accommodations for new dad and siblings. New parents are encouraged to room-in with their new baby to promote bonding. For the safety of our newborns and their families, all visitors must be admitted to the unit by a member of our Maternal and Child Health team.
Services Provided
A baby's birth is an exciting and intimate event for the whole family. To help ease anxiety and enhance the entire birthing experience, our maternal and child health team offers several services, including:
Family-Centered Care
Rooming- In
2 large beds to accommodate Dad while rooming-in with Mom and baby
Labor baths for laboring moms
Private showers in all rooms
Home-like births
Aromatherapy
Advanced pain control techniques during labor, including intrathecal and epidural analgesia
Advanced non-pharmacologic relaxation techniques, including aromatherapy, breathing, massage, music, hypnotherapy tools and movement
Delayed cord clamping & bathing
Immediate skin-to-skin contact
Complementary meals for rooming-in dads
Lactation counseling and on-going breastfeeding support
Free bi-monthly Childbirth Education Classes
Free monthly Car Seat Classes
Free home visit after discharge by a Certified Lactation Counselor/RN
Free referrals to Healthy Families and Public Health Nursing
Newborn hearing screens
Noninvasive bilirubin screening
Location
The Maternal and Child Health Unit at Cary Medical Center is located to the right at the end of the main hallway. Please note that access to this area is restricted; entrance requires registering at the unit's nursing station. If you need assistance or are unfamiliar with our facility, our customer service volunteers would be happy to escort you to the department.