Cary Medical Center Receives 2023 Women's Choice Awards®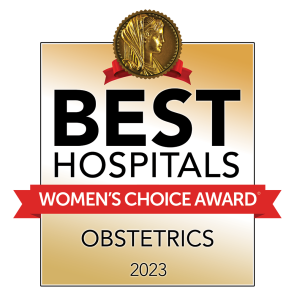 Cary Receives 2023 Women's Choice Award
One of America's Best Hospitals for Obstetrics
Cary Medical Center has been named as one of America's Best Hospitals for Obstetrics by the Women's Choice Award, America's trusted referral source for the best in healthcare. The award signifies that Cary Medical Center is in the top 10% of 4,729 hospitals offering obstetrics.
The Women's Choice Award educates all women on where to receive the best care and focuses its research on hospitals that provide the highest quality patient experience, especially important for potential labor complications.
"Having a baby is one of the most precious times in a woman's life," said Delia Passi, Founder and CEO of the Women's Choice Award. "New moms have many choices to make when it comes to having their baby, and choosing where to deliver the baby is right up there with choosing the best doctor.  We've made it easy for her to identify the best hospitals that are proven to deliver an outstanding experience."
This is the 9th year that Cary has received the Women's Choice Award for Obstetrics.  Jen Plante, Nurse Manager for Cary's obstetrics unit said that the consistency of the award confirms the quality of the obstetrics service and is a great compliment to the staff.
"Cary has established and maintained a tradition of excellence in obstetrics care," said Plante who has managed the unit for the past 14 years. "Our staff works closely with Pines Women's and Children's Health and together, as a team, we have created a unique and high quality experience for women and families."
In addition to providing a safe and quality clinical service, Plante said that her staff, along with the Pines Obstetricians, Nurse Midwives, and Pediatricians, work with pregnant patients to create the birthing experience that they desire.
"We strive to create a unique birth experience for every family who entrust us with their delivery. Oftentimes, birth plans don't go as imagined, and our staff will step in to provide alternative choices to maximize the care and comfort of each family. Just like deliveries, all families are unique and require customized attention. Our staff is here because they choose to partake in the most special moments of a lifetime; we take seriously the responsibility of creating an unforgettable birth experience. We truly treat all of our patients as though they are our family and this is what sets us apart. Patients expect that we will provide great clinical care, and what they measure is how we treat them and make them feel."
The Women's Choice Award uses as unique methodology for the Best Hospitals in Obstetrics in that in combines national accreditation, Hospital Consumer Assessment of Healthcare Providers and Systems (HCAHPS) survey results and hospital outcome scores with primary research about women's healthcare preferences.  It is the only award recognizing Excellence in obstetric services based on robust criteria that consider patient satisfaction and clinical excellence.
Kris Doody, RN and CEO for Cary Medical Center and Pines Health Services said that the relationship between Cary and Pines has created a special opportunity to advance the level of care and customer satisfaction reflected by the Women's Choice Award.
"Having the Pines Center for Women and Children's Health on our campus enhances the day to day contact and communication with staff on our OB unit. This helps to build strong team spirit and confidence in the ability to deliver a wonderful experience for new moms and families. We are very proud of our entire team at Cary and Pines for achieving this remarkable and consistent recognition."
Cary Medial Center is one of 494 award recipients representing the hospitals that have met the highest standards for obstetrics across the U.S.
ABOUT THE WOMEN'S CHOICE AWARD®
The Women's Choice Award for Best Hospitals™ is a trusted referral source and coveted credential that identifies the nation's best hospitals based on robust criteria that includes relevant clinical performance, patient satisfaction and appropriate accreditations. The Best Hospitals demonstrate exceptional ratings, providing the highest level of care and commitment to their patients' health and well-being.  The Women's Choice Award is the only designation that takes into consideration the preferences of women when selecting a hospital. Visit http://www.womenschoiceaward.com/ to learn more.