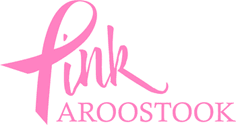 Pink Aroostook is a breast health program designed for support, advocacy, education and awareness of breast health issues in northern Maine.
Thanks to Cary Medical Center and collaborations with the Maine Breast Cancer Coalition, the National Breast Cancer Coalition, the American Cancer Society and the Maine Breast & Cervical Health Program, Pink Aroostook helps connect people diagnosed with breast cancer to local and national resources which may be able to provide financial and emotional support.
Breast Cancer Survivor and Patient Resources
Pink Aroostook has limited resources available for residents of Aroostook County with a breast cancer diagnosis. Pink Aroostook Survivor Bags equip newly diagnosed breast cancer patients with information and comfort items to assist them on their breast cancer journey. The Survivor Bags are customized to the patient's needs and treatment type. The Pink Aroostook Program Director, Bethany Zell, is also available to help match newly diagnosed breast cancer patients connect with a trained American Cancer Society Reach to Recovery volunteer.
Breast Cancer Deadline 2020®
To renew the sense of urgency to its mission and to refocus global efforts on ending breast cancer and saving lives, the National Breast Cancer Coalition has set a deadline: End breast cancer by January 1, 2020, Breast Cancer Deadline 2020®.
NBCC has a strategic plan of action to achieve the deadline. The plan focuses on primary prevention, stopping women from getting breast cancer, and understanding and preventing metastasis (the spread of cancer), which is responsible for 90% of breast cancer deaths. The strategic plan is designed around three goals:
research needed to end breast cancer;
global access to the necessary information and lifesaving interventions;
and the influence of leaders everywhere in the strategies to end breast cancer.
NBCC will point the way, create and facilitate collaborations, formulate and implement plans of action, and identify and push for the policies needed. Ultimately, success will depend upon those outside NBCC: leaders, researchers, public officials, the philanthropic and funding community, breast cancer advocates, and the general public.
GET INVOLVED
Join Pink Aroostook, Cary Medical Center and the Maine Breast Cancer Coalition in endorsing Breast Cancer Deadline 2020 today. The Breast Cancer Deadline 2020 campaign must gain support from a diverse set of groups and organizations—not just those focused on breast cancer but all who care about and understand the importance of this issue – people, just like you, who are willing to stand up and make their voices heard.
Endorse Breast Cancer Deadline 2020 as an organization, public official or researcher and become part of the National Action Network today. You will receive action alerts with information about concrete things you can do to advance the cause of ending breast cancer. The action might consist of making a phone call, signing a petition, sending an email to a member of Congress or perhaps a letter to the editor of your local paper. The National Breast Cancer Coalition will provide the information you need to take effective action.
Public Official Endorsement – Are you a national, state or local public official or know someone who is?  Ask them to endorse Breast Cancer Deadline 2020!
Researcher Endorsement – Are you a medical researcher or work for a medical research lab? Endorse the Deadline here!
National Action Network for Individuals – Are you an individual who is tired of the status quo in the fight to end breast cancer? Become an active part of the solution by joining the National Action Network!