WAY TO WELLNESS #57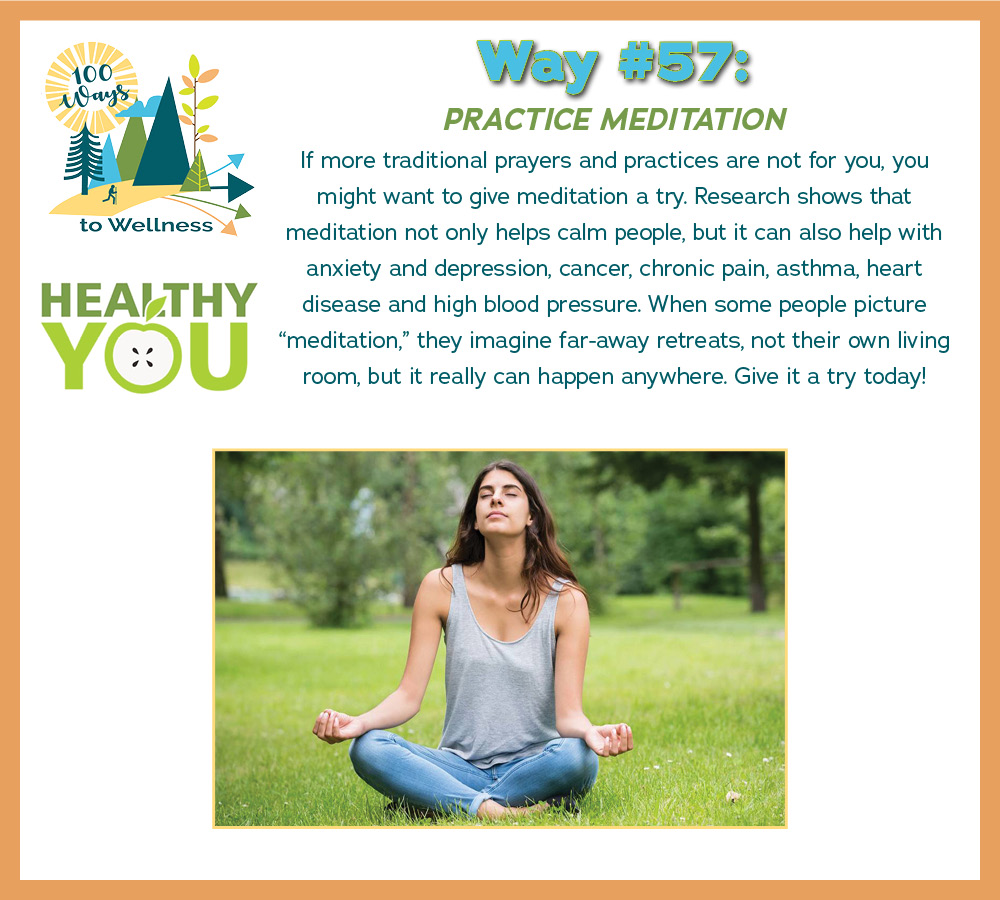 WAY TO WELLNESS #57
The word "meditation" actually refers to a family of different activities that engage the mind and body. What these activities have in common is focused concentration. During any meditation practice, you try to reach a state of awareness of your own thoughts and feelings, and a connectedness with yourself and the environment. With time, a meditation practice can help you find peace and enhanced well-being.
People from all walks of life can participate in the practice of regularly meditating. In addition to the benefits of meditation listed below, it can also you help develop a more positive outlook on life. No matter what type of meditation you choose to explore, all forms encourage focused attention, relaxed breathing, and an open, welcoming attitude — all helpful practices that you can take back into "real life" when you're finished.
To get started, all you need is a few minutes each day. Later you may want to work up to 10, 20 or 30 minutes. You can find many meditation options in books or CD, online or in a class. They even have apps for it now! You can also try some of the suggestions below. If one doesn't work, stay calm and try another.
Deep Breathing. Sit or lie down comfortably. Rest your hands on your stomach. Slowly count to four while inhaling through your nose. Feel your stomach rise. Hold your breath for a second. Slowly count to four while you exhale, preferably through pursed lips to control the breath. Your stomach will fall slowly. Repeat a few times.

Mindfulness Meditation. Focus on your breath. Notice anything that passes through your awareness without judgment. If your mind starts to tackle your to-do list, just return to focusing on your breath.

Visualization. Close your eyes, relax and imagine a peaceful place, like a forest. Engage all your senses: Hear the crunching leaves, smell the damp soil, feel the breeze.




Repeating a mantra. Sit quietly and pick any meaningful or soothing word, phrase or sound. You can repeat the mantra aloud or silently. Experts say the repetition creates a physical relaxation response.