5-22-19 Update on Hepatitis 'A' Vaccine
5/22/19 Statement on Hepatitis 'A' Vaccine
Cary Medical Center
May 22, 2019 – 6PM
Today was Cary Medical Center's last scheduled clinic for Hepatitis 'A' vaccination in response to the CDC public health advisory issued on Friday, May 17, 2019 regarding a food service worker infected with the virus. We have vaccinated close to 800 people over the last three days but realize that not everyone who is eligible to be vaccinated may have been able to attend a clinic.
If you are still eligible to be vaccinated according to the exposure/last vaccination date chart below as a result of this potential exposure, the vaccine will be available at Pines Health Services locations according to the following schedule.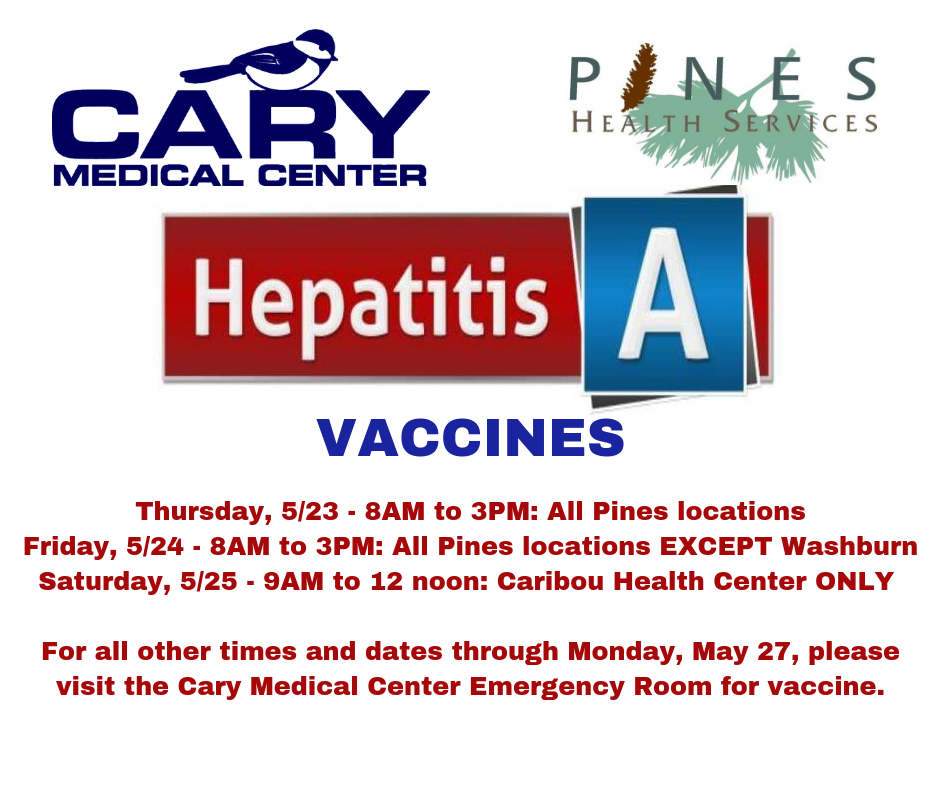 Please visit www.pineshealth.org/ for locations and contact information.
If you need to be vaccinated outside of these hours or on Sunday, May 26, 2019 through Monday, May 27, 2019, the Cary Medical Center Emergency Room will have vaccine available. The ER will try and take care of you as quickly as possible, but please remember that emergency patients must always come first.
We will provide vaccine regardless of insurance status, including for those who uninsured or underinsured.
If you have eaten at Burger Boy prior to May 8, 2019 but during the April 24 through May 7, 2019 window, getting a vaccine will not prevent the Hepatitis 'A' virus if you were exposed. The risk of contracting it is still low, but you can find information about Hepatitis 'A' and its symptoms here: https://www.cdc.gov/hepatitis/hav/pdfs/hepageneralfactsheet.pdf. Please call your physician or medical care provider with any concerns.
If you only ate at Burger Boy after May 13, 2019, there is no need for a vaccination, as the exposure risk was no longer present at the restaurant after that date. Additionally, there is no ongoing risk related to Hepatitis 'A' at Burger Boy. You can go back to eating there and enjoying your ice cream!
Finally, we have several people to thank. First, thank you to our partners Houlton Regional Hospital, Northern Maine Medical Center and Northern Light A.R. Gould Hospital for working collaboratively throughout this event, providing critical support and supplies needed to vaccinate this many people so quickly. Second, thank you to the amazing Public Health Nurses, Maine Immunization Program, and Maine CDC personnel who were here at each clinic helping to vaccinate people. Third, to Representative John DeVeau, for attending our clinics and providing support to the community, the hospital, and Burger Boy. Fourth, a big thanks to all of the Cary and Pines staff who dropped everything to provide the care our community needed. And finally, thank you to everyone who attended our clinics for your patience and good humor throughout the process.