Dr. Michaud Inducted as an American Association of Hip and Knee Surgeons Fellow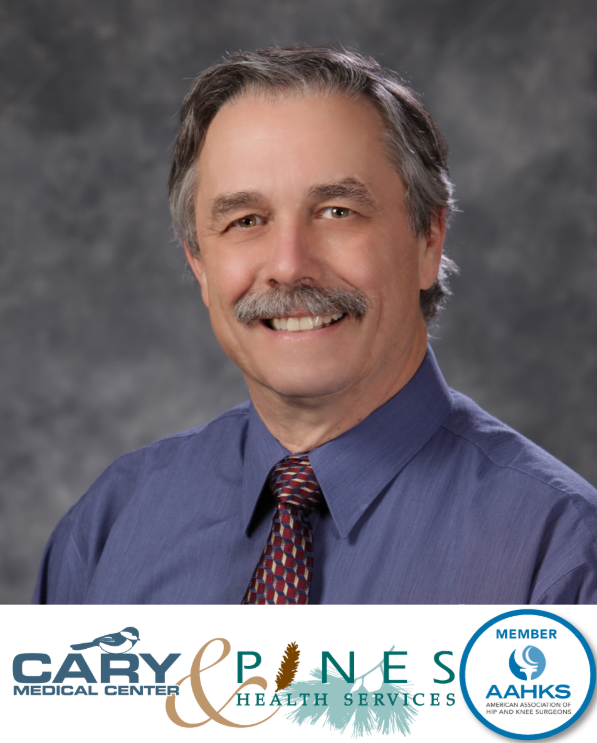 Caribou, ME—Orthopaedic surgeon Jean-Pierre Michaud, MD, FRCS(c) of Pines Health Services and Cary Medical Center was recently inducted as a fellow member of the American Association of Hip and Knee Surgeons (AAHKS.)
In order to be a Fellow member of AAHKS, a physician must be an active fellow of the American Academy of Orthopaedic Surgeons (AAOS), the Royal College of Physicians and Surgeons of Canada (RCPSC) or the American Osteopathic Board of Orthopaedic Surgery (AOBOS). The physician has to be recommended by a member fellow and accepted by the board of AAHKS. Additionally they must perform a minimum of 50 major reconstructive procedures of the hip or knee annually.
Dr. Michaud earned his medical degree from Laval University in Quebec City, completed his internship at St. Francois Hospital in Quebec City, Quebec, Canada and completed his residency program at the University of Montreal, Montreal, Quebec, Canada. Dr. Michaud is board certified, completed a Sports Medicine Fellowship through the University of Cincinnati, is a current fellow through The Royal College of Physicians and Surgeons of Canada, is a member of the Maine Medical Association, American Medical Association, Quebec Orthopedic Association and Canadian Orthopedic Association.
Established in 1991, the mission of the AAHKS is to advance hip and knee patient care through education, advocacy and research. AAHKS is headquartered in Rosemont, Illinois, USA with over 4,000 members in the United States, Canada and 37 other countries. Members are Orthopaedic surgeons who perform hip and knee replacement surgery – known as hip and knee arthroplasty or total joint replacement surgery.
"We are extremely grateful at Pines and Cary to have Dr. Michaud and his dedicated Orthopedics, Sports Medicine and Podiatry team. Their commitment to their patients and community for orthopedic care should be commended. Dr. Michaud's vast experience and knowledge is changing the lives of his patients in need of total hip or knee replacements" said Lisa Caron, Chief Operating Officer at Pines. Dr. Michaud will be participating in the annual meeting in Dallas, Texas in November. This is the premier scientific hip and knee arthroplasty meeting in the word.
Pines Health Services is a non-profit, community-based multi-specialty physician practice serving the residents of northern and central Aroostook County. Pines providers are committed to excellence in patient-centered health care and to improving the lives of those we serve. Cary Medical Center is a 65-bed acute care hospital well known for its patient-centered services. We are actively engaged in advancing the health and wellness needs of people in Aroostook County. Cary and Pines are equal opportunity providers and employers. Pines Health Services and Cary Medical Center work closely together to deliver seamless health and wellness services to every patient we serve. Additionally we have developed a comprehensive total joint program, a state of the art initiative focused on optimal patient care.
For more information visit us on the web at www.carymedicalcenter.org and www.pineshealth.org or find us on Facebook @carymedicalcenter and @pineshealthservices.