Jefferson Cary Foundation Adds Three New Members to Board of Directors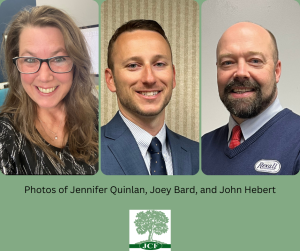 The Jefferson Cary Foundation, (JCF) is pleased to announce the appointments of Jennifer Quinlan and Joey Bard of Caribou, and John Hebert of Van Buren, as new members on the Foundation's Board of Directors.
A Caribou native, Jennifer earned a Bachelor of Science Degree in Marketing, Magna Cum Laude in 1997 and a Masters of Business Administration Degree in 2000 from Thomas College in Waterville, ME. She started her career in post-secondary education at Thomas College serving in various roles including the Director of Admissions and Director of Financial Aid. She continued her career in Education as a Guidance Counselor at Messalonskee Middle and High School and then taught English for RSU 39 at Caribou Middle and High Schools. Since 2014 she has been the Office Manager at Rockwell & Quinlan, CPA's, in Caribou. She is also the owner of The Bookkeeper, Inc., specializing in small business bookkeeping. Jennifer's daughter Alaina, is studying Pharmacy at Husson University in Bangor.
Joey Bard is the Senior Vice President, Agency Manager for United Insurance in Caribou. Joey is a Caribou High School graduate, and a University of Maine, Presque Isle graduate, Cum Laude, with a Bachelor of Arts Degree in Business Administration and Management, and a Bachelor of Science Degree in Outdooor Recreation and Leisure Services. He also holds a CLCS, (Commercial Lines Coverage Specialist) Insurance Designation. Joey has been with United Insurance for 5 years, managing the Caribou Office for the past three years. He's a member of the Caribou Rotary Club and Caribou Economic Growth Council and resides in Caribou with his wife, Kallie and their two children, Cullen and Teagan.
Van Buren native John Hebert, PharmD, is the third generation owner of Hebert Rexall Pharmacy in Van Buren. He is also co-owner of Bangor Drug Company and Bangor Drug, LTC. John earned his Bachelor of Arts Degree in Economics from Colby College in Waterville, ME, and a Doctor of Pharmacy Degree at the University of Connecticut in 2002. John is a member of the Abel J. Morneault Public Library Board of Trustees, the Van Buren Hospital District Board of Directors, a Board Member of the University of Maine at Fort Kent Foundation, a member of the Town of Van Buren Recreation Committee, a member of the Board of Directors of Northern Aroostook Alternatives and a Member of the American Society of Consultant Pharmacists. He resides in Van Buren with his wife, Amy, and sons, Henry, Sam and Louie
The three new board members join JCF Board Officers, Pamela Scheppele, President, and Craig Staples, Treasurer; and members Dr. Craig Small, Mary Ann Chasse, Kris Doody, and Dr. Shawn Laferriere.
"Speaking for all of my fellow board members, we feel so fortunate that Jennifer, Joey and John have joined our group," commented JCF Board President Pam Scheppele.  "Throughout their careers they have all embraced the spirit of community that we hold so strongly here at the Foundation and bring their talent, energy and expertise to the table.
The Jefferson Cary Foundation is a nonprofit organization founded in 1993 to encourage philanthropic giving, and though careful financial management and analysis, provide funding for various health related projects and equipment that benefit all those served by Cary Medical Center.  Through the generosity and support of many donors, the Foundation has generated more than $1 million in support of several major hospital projects, including the addition of the Specialty Clinics and Chan Center, the Women's Imaging Center, the Pines Center for Women's & Children's Health and the Jefferson Cary Cancer Center.  In 2017, the organization's Endowment Fund surpassed the $500,000 mark and a new goal of $1 million was established by the JCF Board of Directors. The Endowment Fund is a permanent fund, with the principal remaining intact and interest only income is used to support a variety of projects such as the expansion of services or purchasing new technology at Cary Medical Center.
For more information about the Jefferson Cary Foundation, please call the Foundation office at 207-493-4849 or email jcf@carymed.org.