New Year's Baby 2016
Congratulations to Cary Medical Center's 2016 New Year's Baby, Charlee Grace Cole, and her parents, Kelly and John Cole of Mapleton. Charlee was born at 1:50 p.m., on Jan. 1, 2016, and weighed 6 lbs, 5.8 oz, and was 19″ long.
She was delivered by Kim Martin, Certified Nurse Midwife with Pines Health Services.
The new family received gifts from the Cary Medical Center Ladies Auxiliary, the hospital, and a beautiful handmade quilt from Crown of Maine Quilters.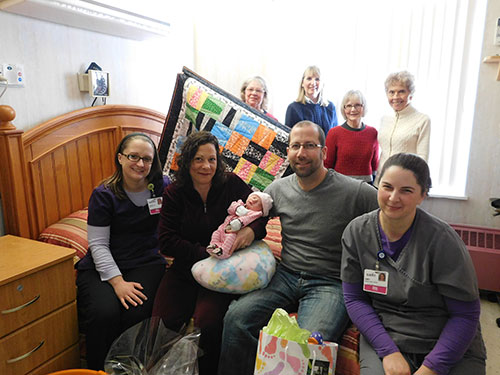 With Charlee, Mom and Dad are, seated, two Cary Maternal/Child Nurses, Shelly Deprey, RN (on the left,) and Amy Jackson, RN, (on the right.)
Standing in the back are, Judith-Green Tarr, with the Crown of Maine Quilters; and Mary Harrigan, April Caron and Donna Small from the Cary Ladies Auxiliary.