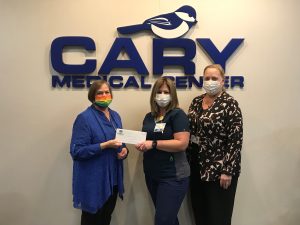 Because of a local family's generosity, caring and desire to give back, many nurses at Cary Medical Center have been supported with financial assistance to help further their nursing education over the past thirty years. Members of the Reuben and Annette Cote family originally established the Family Memorial Scholarship program in memory of Annette because of the wonderful care that she received during her hospitalization at Cary in the mid-1980's. The scholarship has been awarded annually since the late 1980's to Cary Medical Center employees furthering their education in the nursing field, with the funds administered by the Jefferson Cary Foundation, (JCF). As other members of the immediate family have passed, including siblings Freda "Sis" Cote Classy in 1999, Paul "Bert" Cote in 2005 and Alfred "Hap" Cote in 2008, the family has added to the scholarship and made it a Family Memorial.
"Even though the extended Cote family now resides in various locations throughout the United States, they generously continue to support the scholarship fund annually here at Cary," explained Tamra Kilcollins, JCF Executive Director. "Their commitment to the scholarship has continued each year to assist a recipient with continuing his/her nursing education. These wonderful gifts help make a difference for our nurses and patients right here at home, and we so appreciate their support."
"It's always a hard decision for us because all of the applicants are so deserving," noted Darylen Cote. "Our family feels the scholarship is a wonderful way to give back, and they are all so generous with supporting and keeping our scholarship funded. We were so pleased that we could award another scholarship this year."
Receiving this year's Reuben & Annette Cote Family Memorial Scholarship award of $750 is Stephanie Gagnon, RN, of Fort Kent. Stephanie is a University of Maine at Fort Kent graduate, has been a registered nurse for 12 years and is the new Infection Preventionist at Cary Medical Center. She is currently pursuing training for certification in her field.
Presenting Stephanie with their Reuben and Annette Cote Family Memorial Scholarship Awards are (left), Darylen Cote, wife of the late Alfred "Hap" Cote, and daughter-in-law of Reuben and Annette Cote; and (right), Tamra Kilcollins, Executive Director of the Jefferson Cary Foundation, administrator for the scholarship fund.