Student Receives Morrill Memorial Scholarship
Local Student Receives the 1st Walter Reid Morrill Memorial Scholarship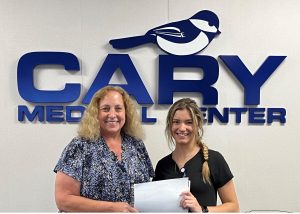 The family of the late Walter Reid Morrill is pleased to announce that Lacey Jandreau is the first recipient of the Walter Reid Morrill Memorial Scholarship. The $500 annual scholarship was established in Mr. Morrill's memory to offer financial assistance to local students going into the Nursing field.
Lacey is a graduate of the Caribou Technology Center's Certified Nursing Assistance, (CNA) program and works as a CNA at Cary Medical Center. She will be attending Husson University this fall pursuing her degree in Nursing.
"We're so pleased to be able to provide this scholarship in our father's memory," said the Morrill Family, formerly of New Sweden. "And we'd like to thank everyone involved with the annual Cary Classic Golf Tournament; the Foundation, the Caribou Country Club and all of the golfers, who have supported our efforts. We wish Lacey all the best and much success as she pursues her Nursing Degree."
The Scholarship program is administered by the Jefferson Cary Foundation at Cary Medical Center. Presenting the scholarship award to Lacey is Tamra Kilcollins, Executive Director of the Jefferson Cary Foundation.