Sun Shines on Cary Classic – More than 70 Golfers Play in 32nd Annual Event
A bright sun and warm temperatures delighted more than 70 golfers from across Aroostook County and beyond who turned out for the 32nd Annual Cary Classic Benefit Golf Tournament sponsored in part by the Katahdin Trust Company. The event is directed by the Jefferson Cary Foundation and is played at the Caribou Country Club. Proceeds from the event will benefit the new Jefferson Cary Cancer Center on the campus of Cary Medical Center. The tournament which featured four men's and two ladies divisions featured some $8,000 in prizes. Randy Hebert of South Carolina, a former tournament champion, won the overall championship with a 36-Hole gross score of 146. Another former ladies champion Betty Deveau of Caribou, won the overall women's championship with a score of 165. Mary Harrigan, Executive Director of the Jefferson Cary Foundation said this year's tournament featured some new faces and a festive atmosphere
---
"The Cary Classic has really become a tradition here in the County", said Harrigan who coordinates the event for the foundation. "We enjoy seeing players who have been here nearly every year and it was great this year to see a lot of new faces. Having the number of golfers we did along with the generous sponsorship of the Katahdin Trust Company, our hole sponsors, and other contributors has turned the tournament into our largest fund raising event."
Jeff Jose with the Caribou Country Club said that weather is always a factor and he said the course was in peak condition.
"We had a lot of comments from players on the quality of the conditions out there on the course", said Jose who is also a former tournament champion. "It was a beautiful weekend with a nice breeze and we had some good scores. Our country club crew along with our tournament committee did another outstanding job."
The tournament featured the Aroostook Junior Champion for the first time this year. Hunter Flynn a junior player from Presque Isle High School won the championship with a gross score of 162.
"This was a great tournament and a lot of fun. It was good to play with some experienced golfers and gain from their knowledge. Everyone was really nice to me and welcomed me to the course. I couldn't have played with nicer people".
Peter Doebener, President of the Caribou County Club Board of Directors, said that the tournament was one of the finest he can remember.
"This year's tournament really had it all", said Doebener who played in the event and took second low net in division four. "We had great weather, great course conditions and great competitive play". This tournament has had a great history and I would have to mark this one down as one of our finest. Knowing that funds raised by the tournament will benefit people with cancer and the new Jefferson Cary Cancer Center also added to the value of the tournament."
The Jefferson Cary Foundation establishes a tournament committee that begins meeting in February to plan the event. The event will be played next year on July 9 and 10 with a free practice round on Friday, July 8.
---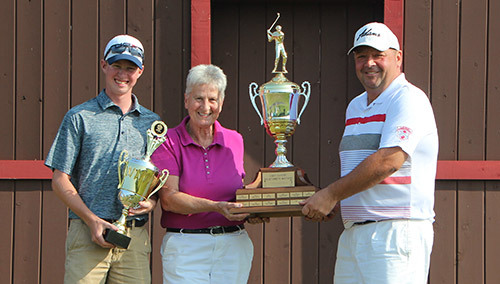 The Cary Classic Benefit Golf Tournament was held July 11 and 12 at the Caribou Country Club. Pictured here left to right are: Hunter Flynn of Presque Isle, Aroostook Junior Champion, Betty Deveau, of Caribou, Ladies Tournament Champion and Randy Hebert of South Carolina, Overall Tournament Champion.
Presenting Korbin and his family with gifts from the hospital and Cary Auxiliary, are, (on the left), Auxiliary Members Joanne Cyr, Margaret Cyr and Allyson Masse; and (on the right), Cary Maternal/Child Nurses, Lauren Walker, RNC, Megan Cormier, RN and Amy Jackson, RN.