WAY TO WELLNESS #52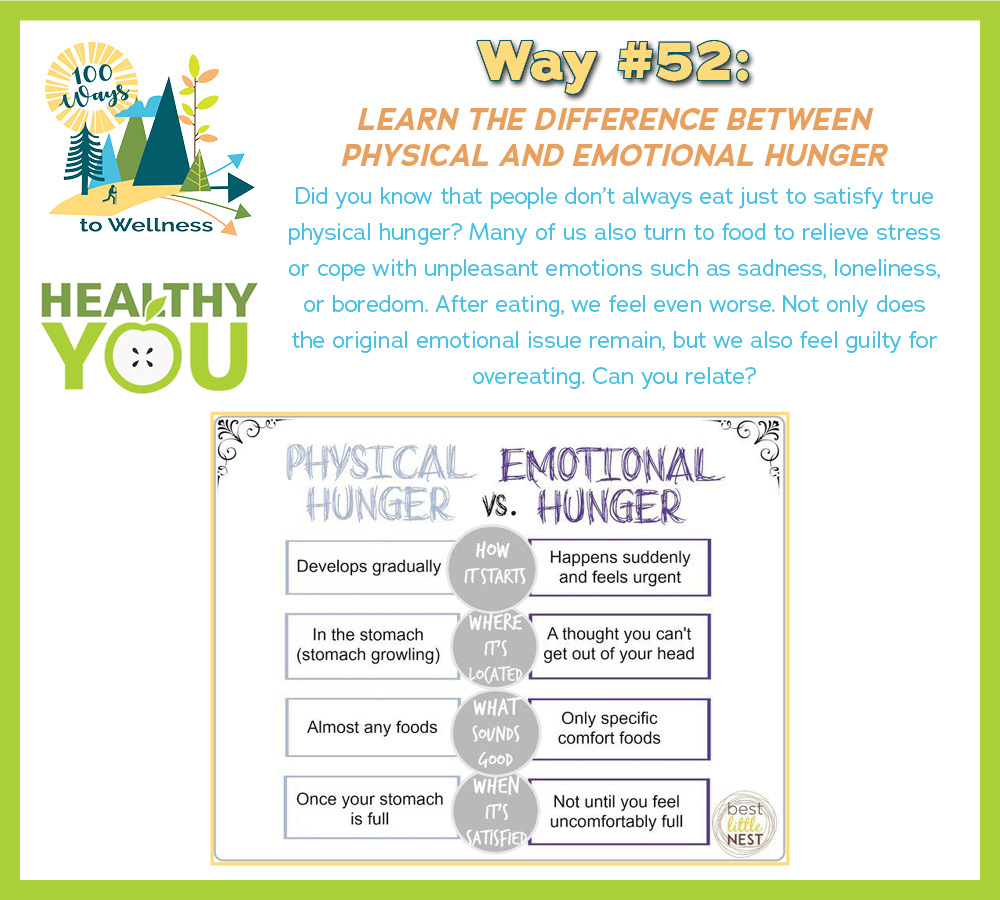 WAY TO WELLNESS #52
The chart below highlights some of the important differences between true physical hunger and hunger that is the result of an emotional response. Once you learn the differences, you may be able to begin identifying times or situations where you are turning to food emotionally.
Emotional eating tends to be automatic and virtually mindless. Before you even realize what you're doing, you've reached for a tub of ice cream and polished off half of it. Emotional hunger is also very specific. It won't be satisfied with just ANY food!
Can you put off eating for five minutes? While you're waiting, check in with yourself. How are you feeling? What's going on emotionally? If all you had to eat were a healthy food option (not the specific thing you are emotionally craving), would you still choose to eat?
If you can take a moment to pause and reflect when you're hit with a craving, you give yourself the opportunity to make a different decision. Even if you end up eating, you'll have a better understanding of why you did it. This can help you set yourself up for a different response next time
Today, identify an emotional eating food that you could "offer" yourself when you are craving something specific. 
"If all I had to eat was ________________, would I still eat right now?" Fill in the blank with something healthy that you like but don't necessarily crave or overeat… preferably a vegetable. Next time you notice cravings for very specific foods, pause and ask yourself the question to determine whether you are truly hungry in a physical sense or simply being emotional in that moment.
#EmotionalWellness #WaysToWellness