WAY TO WELLNESS #71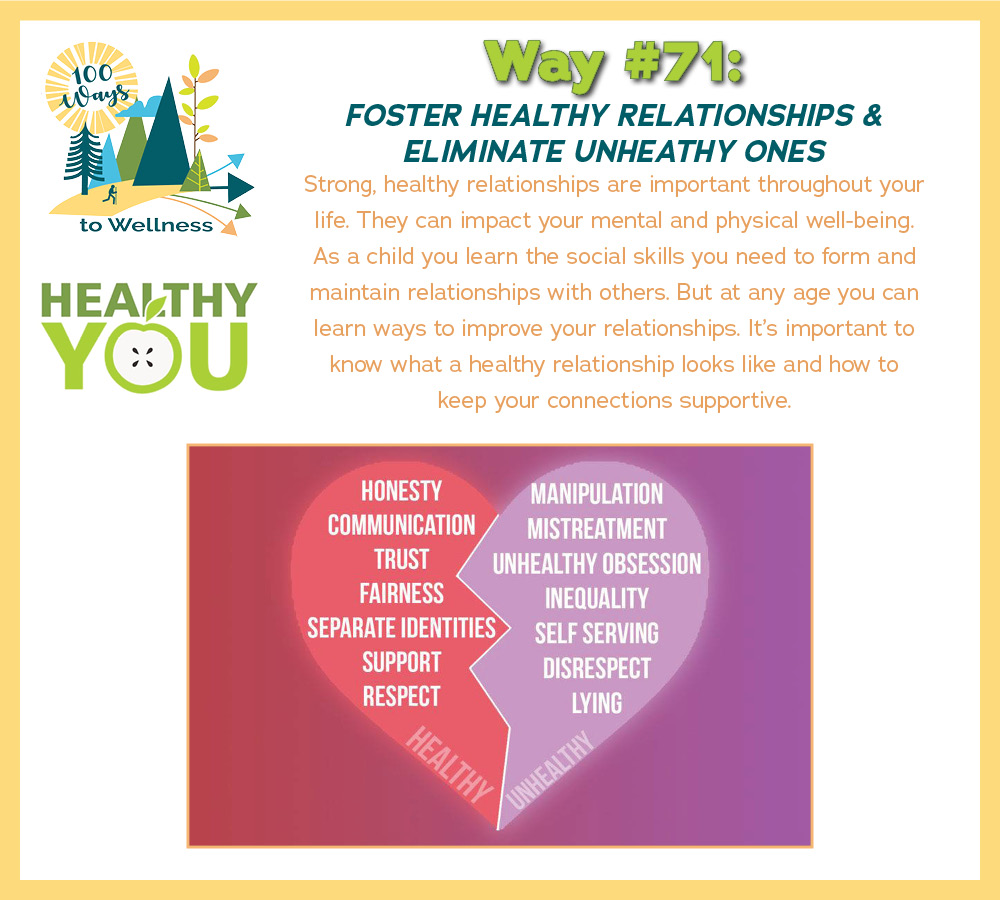 It is not difficult to foster and maintain healthy relationships but sometimes, it is hard to recognize relationships that have gone off track and become unhealthy (or were unhealthy to begin with) because we are blinded to the truth. It is essential that we surround ourselves with healthy relationships and do everything that we can to remove ourselves from relationships that are abusive or otherwise unhealthy for our overall wellbeing.
Healthy relationships can be fostered and strengthened when we:
Share our feelings honestly.

Ask for what we need from others.

Listen to others without judgement or blame. Are caring and empathetic.

Disagree with others respectfully. Conflicts should not turn into personal attacks.

Avoid being overly critical, angry outbursts, and violent behavior.

Expect others to treat us with respect and honesty in return.

Compromise. Try to come to agreements that work for everyone.

Protect ourselves from violent and abusive people. Set boundaries with others. Decide what we are and aren't willing to do. It's okay to say no.

Learn the differences between healthy, unhealthy, and abusive ways of relating to others.
One sign of a healthy relationship is feeling good about yourself around your partner, family member, or friend. You feel safe talking about how you feel. You listen to each other. You feel valued, and you trust each other.
Having an unhealthy or abusive relationship can really hurt. The connection may be good some of the time. You may love and need the person who hurts you. After being abused, you may feel you don't deserve to be in a healthy, loving relationship.
With help, you can work on some relationships, but sometimes in an abusive relationship, you may be advised to get out. 
At any age, your relationships matter. Having healthy relationships with others starts with liking yourself. Learn what makes you happy. Treat yourself well and know that you deserve to be treated well by others.