Cary Golf Classic
Many Thanks to all of our sponsors from Myself, the Jefferson Cary Foundation Board of Directors and everyone at Cary Medical Center and Pines Health Services for your support!  The Cary Classic is so successful because of you!
 All the Best!
Tamra Kilcollins
Executive Director
 39th Cary Classic Draws Record Number of Golfers
106 Participate in Annual Fund Raising Golf Tournament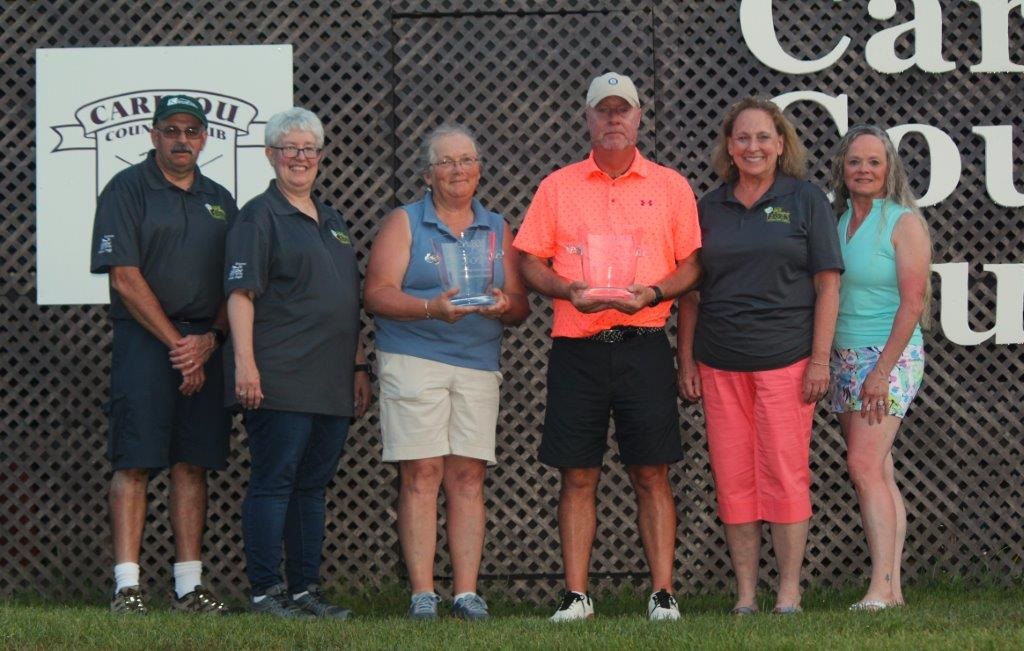 Pictured: JCF Board Treasurer Craig Staples and JCF Board President Pam Scheppele, Jane Hunter, Overall Women's Winner; Ralph Michaud, Overall Men's Winner; Tamra Kilcollins, JCF Executive Director; and Kris Doody, RN, JCF Board Member and CEO, Cary Medical Center/Pines Health Services
The Cary Classic Benefit Golf Tournament celebrated its 39th year in style, drawing the most players in more than a decade.  106 golfers, including several past champions from throughout Northern Maine and western New Brunswick turned out for the one-day, play your own ball tournament.  Ralph Michaud of Fort Fairfield took home the $300 Visa Gift Card Grand Prize for the Men's Division I Low Gross with an 18-hole score of 74.  Jane Hunter of Stockholm took home the $300 Gift Card Grand Prize for the Ladies Division I Low Gross, finishing with a score of 84.  In addition to the cash, the winners were presented with glassware commemorating the 39th Cary Classic Tournament. The tournament featured about $7,000 in prizes, including longest drive, closest-to-the pin and hole-in-on competitions. This year also featured a new Men's Seniors Division and a new putting contest.
For the ninth consecutive year Katahdin Trust Company was the Corporate Sponsor of the event, with more than 50 other businesses and organizations generously contributing major, hole and prize sponsorships.
Tamra Kilcollins, Executive Director of the Jefferson Cary Foundation was all smiles as the event took advantage of some beautiful weather and a course that was in exceptional condition.
"We are so thrilled with the success of the event," said Kilcollins who coordinated the golf tournament for the fifth year.  "The staff and volunteers at the Caribou Country Club, the Jefferson Cary Foundation Board Members and everyone associated with the event did an outstanding job getting the course ready and managing the registration and scoring.  We are very grateful for the support of so many people, as well as the continued support of our sponsors. We couldn't have such a successful tournament without the generosity of so many people, organizations and businesses. Proceeds from this year's Cary Classic will be used to help purchase new equipment for the newly renovated Maternal/Child floor at Cary Medical Center."
The Cary Classic has been held at the Caribou Country Club for all 39 years of its history.  In 2024, the tournament will be celebrating its 40th year in combination with Cary Medical Center celebrating 100 years of service to the community.
Winners from the 39th Cary Classic Golf Tournament are:
MEN'S
Flight A
1st  Low Gross                                  Ralph Michaud – 74
2nd Low Gross                                  Ty Dickson – 75
3rd Low Gross                                   Jon Humphrey – 77
1st  Low Net                                      Matt Madore – 70
2nd Low Net                                      Stephen Clark – 73
3rd Low Net                                      AJ Edgecomb – 74
LADIES
Flight A
1st  Low Gross                                  Jane Hunter – 84
2nd Low Gross                                  Emily Jose – 86
3rd Low Gross                                   Kris Doody – 100
1st  Low Net                                      Dee Pelletier – 74
2nd Low Net                                      Judy Richards – 77
3rd Low Net                                      Jane Hochholzer – 87
MEN'S
Flight B
1st  Low Gross                                  Kyle Grooms – 75
2nd Low Gross                                  Allen Connor – 80
3rd Low Gross                                   Carl Flynn – 82
1st  Low Net                                      Erik Anderson – 72
2nd Low Net                                      Kirk Thibeau – 74
3rd Low Net                                      Shawn Anderson – 76
LADIES
Flight B
1st  Low Gross                                  Janice Beaulieu – 101
2nd Low Gross                                  Viola Kemp – 109
3rd Low Gross                                   Chelsea Desrosiers – 129
1st  Low Net                                      Mary Umphrey – 81
2nd Low Net                                      Liz Lagasse – 117
3rd Low Net                                      Searra Herbert – 118
MEN'S
Flight C
1st  Low Gross                                  Brent Hatchard – 79
2nd Low Gross                                  Jeff Perley – 83
3rd Low Gross                                   Jon Glazier – 87
1st  Low Nets                                    Robbie Irving – 70
2nd Low Net                                      Frank Bemis – 72
3rd Low Net                                      Jay Edgecomb – 76
MEN'S
Flight D
1st  Low Gross                                  Michael Green – 87
2nd Low Gross                                  Jack Herbert – 90
3rd Low Gross                                   Troy Connolly – 91
1st  Low Net                                      Jim Dunleavy – 72
2nd Low Net                                      Carter Quist – 76
3rd Low Net                                      Craig Gustafson – 77
SR MEN'S
Flight
1st  Low Gross                                  Jeffrey Jose – 77
2nd Low Gross                                  Steven Gagnon – 80
3rd Low Gross                                   Curtis Culberson – 81
1st  Low Net                                      Hiram Towle – 68
2nd Low Net                                      John Belanger – 70
3rd Low Net                                      Terry Hopkins – 72
CLOSEST TO THE PIN
Men's #3/12                                     Hiram Towle  1' 10"
Men's #7/16                                     Jack Boone  5' 9.5"
Ladies #3/12                                    Mary Umphrey  39' 1"
Ladies #7/16                                    Emily Jose  10' 10"
LONGEST DRIVE
Men's #8/17                                     Ben Rosser
Ladies #8/17                                   Dee Pelletier
Sr Men #8/17                                  Curt Culberson
PUTTING CONTEST
AM –   Troy Connolly
PM –   Tie, Hiram Towle and Terry Hopkins